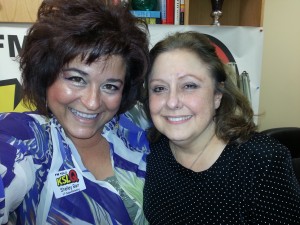 Vicki White, the St. Charles County Development Manager for the Salvation Army stopped by the KSLQ Satellite Studio in St. Peters to say: Thank you to all that participated in the on-line auction 'Bid for A Cause' that benefited the Salvation Army St. Charles County Shelter.
In 2013 The Salvation Army's St. Charles County shelter provided lodging for 425 individuals and families, who had no other place to go. The St. Charles County shelter provided not only safe accommodations and meals, but also assistance securing the basic needs everyone requires to regain their independence.
While not everyone experiences the same setbacks, The Salvation Army provides help finding employment, locating affordable housing, budgeting, and family support. The shelter is located at the O'Fallon Corp at #1 William Booth Drive, O'Fallon, MO 63366. Find the Salvation Army shelter in O'Fallon on Westplex.com (click here to go directly to WestPlex.com). or for more information, or to donate, please go to www.stlsalvationarmy.org. The need for help in your own backyard is a year round need. Thank you for your generous donations of time, supplies and money.