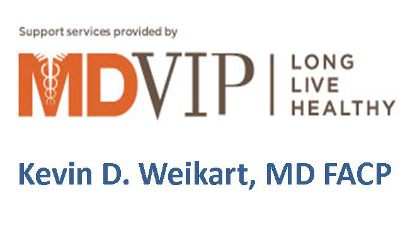 When you go to the Doctor, don't you wish that your doctor took the time to get to know you, really listened to you and is not backing out the door as soon as he/she enters the room?
Meet Kevin D. Weikart MD, FACP. Dr. Weikart has been a physician practicing in Lake St. Louis for over 30 years now.
He specializes in Internal Medicine and is also certified in Hospice as well. A graduate of the American University of the Caribbean Medical school. Dr. Weikart is a Fellow of the American College of Physicians, certified by the American Board of Internal Medicine and is also a member of the American Medical Association and Missouri State Medical Association.
Dr. Weikart has served as Chief of Staff and Chief of Medicine at St. Josephs Hospital West, in addition to receiving numerous awards such as the Patients Choice Award from 2007 to 2010 and the American Medical Association Physician Recognition Award from 1993 to 2011.
Dr. Weikart has recently switched to a new type of practice called "MDVIP," a retainer based program that is focuses on wellness and health, as well as having alot of included costs and access to special talks and programs. Dr. Weikart will also see you in the hospital, which most primary care doctors are now not doing. In addition, Dr. Weikart only sees a few patients a day so he can further focus on each patient's individual wellness.
CLICK HERE TO SCHEDULE A COMPLIMENTARY CONSULTATION WITH DR. WEIKART.
Dr. Weikart's office is located east of Lake St. Louis Boulevard and North of Highway 70 on the corner of West Terra Lane and Peruque Crossing Court. The address is 1002 Peruque Crossing Court, O'Fallon, Missouri 63366. His office number is 636-887-0812. Feel free to give him a call at his office or click the link above to schedule a consultation. We have included a map just below the interview. You can find out more about Dr. Weikart and the MDVIP concept at KEVINWEIKARTMD.COM (click here to go to their website).
This Is My Biz shined the spotlight on Dr. Kevin Weikart's Concierge Medical Practice with MDVIP when Shelley Barr had Kevin Weikart, MD, FACP, in the Q Studio. Below is the interview which will be broadcast on KSLQ 104.5 Saturday, November 1st at 9:30 AM on the "This is My Biz" radio show.
Here is the Google Map location for MDVIP – Kevin Weikart, MD, FACP.