You're a business… You know you need a diverse marketing campaign, but don't know where to begin. You're a non-profit and need merchandising for an upcoming event. You want to increase your digital footprint with a website that says Classy with a real 'Wow' factor to it.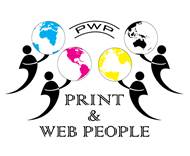 Then PWP-Print and Web People is the company you want to connect with.
PWP Print and Web People are masters when it comes to making your business 'Vocal'. They offer Print Media Marketing, complete Web Services and Promotional Items. Larry Winkler or Michelle Atkinson will sit down with you, listen and really hear what your specific needs are. Then the PWP creative team goes to work to design a campaign that would be the most effective and affordable for you and your business or organization.
The PWP – Print and Web People showroom is just off of Mexico Road in O'Fallon in the Rock Creek Plaza. Their address is 1008 Rock Creek Elementary School Road, O'Fallon, Missouri 63366. We've included a map just below the interview. You can connect with Larry or Michelle at 636-625-4020 or on the web at PrintandWebpeople.com (click here to go to their website).
Below is our interview with Larry and Michelle. The interview will be broadcast on KSLQ 104.5 Saturday, March 8th at 9:30 AM on the "This is My Biz" radio show.
<