Are you a… Manager?, Executive?, Sales Professional?, Community Leader?, Entrepreneur?, or you someone who just wants to be better at what you do as a profession and who you are as a person? Then the Billionaire Thoughts Leadership Conference is an event you can't afford to miss.

Sheles and Damon Wallace of Billionaire Thoughts have aligned three world renowned speakers to share the same stage… for the very first time… This is a pretty big deal…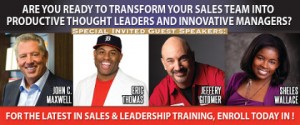 The actual event is Friday, May 9th at the St. Charles Family Arena, at 2002 Arena Parkway, St. Charles, Missouri 63303. For more information or to buy tickets, call 866-384-2175 or on the Web at BillionaireThoughts.com (click here for more information and to register).
Below is our interview with Sheles and Damon Wallace with Billionaire Thoughts. The interview will be broadcast on KSLQ 104.5 Saturday, April 12th at 9:30 AM on the "This is My Biz" radio show.

Here is a google map to the Family Arena… Hope to see you Friday, May 9th.

View Larger Map