Want to make someone feel really special?     Give them something personalized!   Maybe an award.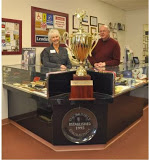 The place to go is Incredible Engravings in St. Peters.   Mary Morak has been serving the businesses and community for over 20 years at Incredible Engravings.
Incredible Engravings helps businesses with custom name tags.   Have you seen a nice looking name tag on a teacher at one of the area schools or on person at one of our area businesses?  Chances are it came from Incredible Engravings.    If it can be personalized or engraved Incredible Engravings can do it for you at a very affordable price.
Incredible Engravings is just off of 364 (that's Highway 94) at Kisker Road and Central School Roads.  The address is 50 Triad South Drive, St. Charles 63304.   We've included a map just below the interview.   You can call Mary at (636) 441-4811.   Incredible Engravings is on the web at Engravings.com (click here to go to their website).

Below is our interview with Mary.  The interview will be broadcast on KSLQ Saturday, March 1st at 9:30 AM on the "This is My Biz" radio show.